Payment Specialists

Product Marketing Manager
Your responsibilities will be to: - Engage customers, identify business needs and consolidate those in a clear portfolio strategy and vision for the future - Produce detailed product go-to market plans and associated business cases, in collaboration with regional and market teams. -...

Lead Market Expert in Banking Initiatives
Operating context of the position: The payments markets are changing fast, with new models, new offerings and new competitors making an impact. Payments are a strategic priority for SWIFT and the evolving landscape in correspondent banking, instant, high and low-value payments present new...

Teamleader Commercial Manager Digital (m/f) ( version Fr)
Vous assumez les responsabilités suivantes : Responsabilités générales : - réalisation des digital sales results et veiller à la rentabilité des ventes numériques ('cost per sale') pour les domaines Channels & Payments ; - pilotage fonctionnel des Commercial Managers Comptes & Cartes,...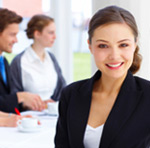 Ricerca
di talenti
Pubblicare un annuncio
su Insurance Boulevard