Portfolio Manager (20000025)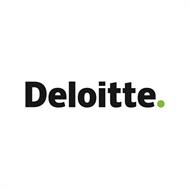 Company name
Place
Zaventem airport
Belgium
Our Company :
Deloitte is a world leading professional services firm, providing accounting and auditing services, management consulting and legal and tax advice. In Belgium we are the largest professional service provider. Our offices offer services to multi-national and large organisations, public institutions and innumerable small, fast-growing companies. Thanks to a strong regional presence and our multi-disciplinary approach, we are ideally placed to meet the requirements of a wide range of public institutions and small and large companies.

Our Deloitte Services & Investments (DSI) organization is a service provider to the business units, enabling their work. Our expertise covers IT Services, Finance, Human Resources, Facilities & Procurement, Legal services, Marketing & Communications, Clients & Markets, as well as Risk services.

For our National PMO department in Zaventem we are searching for a :

Portfolio Manager

The Job / Responsibilities :
As Portfolio Manager you will maximize the company's return on investment by ensuring the correct prioritization of the different projects. You will link strategy and implementation, by prioritizing the projects that deliver the largest beneficial impact on the company.

You will:

- Oversee that the portfolio of projects follows a formalized intake process so they can be tracked and evaluated; ensure that the documentation of this information is done in a clear manner, such that all members of the Deloitte governance boards can consult it.
- Identify and evaluate the prioritization of projects through a global standard process in order to select the projects that will move forward - criteria are: criticality, budget, timeline, return on investment, resource availability, risks and constraints; prepare all requests in a structured manner for discussion with the board.
- Accompany the prioritization decision-making of the governance board who decides on the proposals of the portfolio manager; therefore formulate governance rules for this board on decision making and following up; prepare meetings, conduct decisions, formalize decisions and actions and follow-up.
- Design and implement standard business case monitoring in order to evaluate and control the investments made by the business owners; the process needs to be aligned with Deloitte's North South Europe and global standards and will serve as a communication tool for all stakeholders.
- Validate portfolio feasibility (time, budget, interdependencies, long term impact).
- Manage and monitor the portfolio, taking into account changing circumstances and additional information; this means constantly working with the business owners and project managers to monitor the performance of projects, identifying and resolving conflicts between projects, advising the governance on board decision making (putting projects on hold, cancelling, adding new), ensuring projects are still aligned with the business objectives.
- Create a strong and result driven stakeholder management with all Business Partners and the Executive Committee for the portfolio; register all stakeholders and their roles and develop a stakeholder communication plan, including a feedback loop.
- Ensure that all deliverables meet Deloitte standards concerning compliance, risk management and quality.
- Interpret and synthesize data, exercise professional curiosity to challenge data, and identify meaningful insights to develop recommendations that most effectively support the business objectives
Your profile :
- You have a master degree (preferable in Economics).
- You have an excellent knowledge of English and French/Dutch
- You have relevant project management experience and minimum 5 years experience in portfolio management within an international consultancy environment.
- You have a profound experience in budgeting.
- You have a strong affinity with internal (IT) services
- Project Management certification (Prince 2, PMI,…) is an asset.
- You act with a business-oriented mindset and cope appropriately with ambiguity and conflicting interests.
- You demonstrate confidence and competence as a presenter who can adjust style to address a wide range of audiences.
- You are able to lead data gathering in order to formulate a hypothesis, and conducts an objective root cause analysis using a structured problem solving approach


(Kindly make reference to Banking Boulevard when applying for this position).
(Bedankt om naar Banking Boulevard te verwijzen als u solliciteert).
(Merci de bien vouloir faire référence au site-emploi Banking Boulevard lors de votre sollicitation).

We offer :
- A challenging job with a lot of room for initiatives aiming at building our Talent organisation;
- The opportunity to be involved in strategic projects and decision-making;
- An ever-changing, inspiring and multidisciplinary environment where experts in various fields work together;
- Room for personal development and growth;
- Continuous learning, training and coaching opportunities;
- A competitive salary in accordance with education, experience and skills;
- Attractive extralegal benefits.