Monitor Deloitte I (Senior) Strategy Consultant - FSI (190000EM)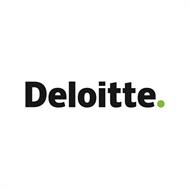 Company name
Place
Zaventem airport
Belgium
Our Company :
Deloitte is a world leading professional services firm, providing management consulting, accounting and auditing services and legal and tax advice. In Belgium we are the largest professional service provider. Our offices offer services to multi-national and large organizations, public institutions and innumerable small, fast-growing companies. Thanks to a strong regional presence and our multi-disciplinary approach, we are ideally placed to meet the requirements of a wide range of public institutions and small and large companies.


Our Consulting practice within Deloitte has a strong reputation and track record as Business Performance Consultants. We are a recognized leader in helping clients solve complex business problems, differentiated by our ability to execute on the advice we provide. Our multi-disciplinary competencies allow us to address CXO issues from every angle.

Monitor Deloitte is our strategy consulting practice, working with the world's leading and most ambitious corporations, governments and social sector organizations to drive growth on the issues that are most important to them. To that end, the firm has developed client advisory content and services in the areas we think are critical to growth: Corporate & Business Unit Strategy, Customer & Marketing Strategy, Innovation, Pricing and Demand Analytics, Post-Merger Integration and Business Transformation as a means to assist organizations in addressing their toughest challenges in our dynamic world.

Monitor Deloitte's client engagements are predominantly in industries and organizations facing important - often profound - transitions. We typically work with CEOs, business unit heads and other members of the senior management team. Client engagements may be as short as a few months, but often evolve into multi-year, wide-ranging and transformative relationships.

We are looking for experienced professionals to join Monitor Deloitte's growing and dynamic Financial Service practice.
The Job / Responsibilities :
As a member of our Monitor Deloitte team, you will help our clients to address business-critical issues, and support executive level decision makers in finding solutions to answer complex strategic dilemmas.

- You will contribute to a wide range of projects in the financial services industry, helping our clients cope with the challenges they are facing;
- Work with Partners, Directors, and (Senior) Managers to develop hypotheses and work out plans that address project objectives;
- Provide our clients with a forward-looking view of the most important strategic topics affecting them;
- Support the client in determining its strategy and defining the right set of initiatives & projects to execute this strategy;
- Deliver engagements, including leading the approach, liaising with stakeholders, and directing activities of people on the project team;
- Have quality discussions with clients at C-suite level, demonstrate creativity combined with strong industry knowledge;
- Communicate analysis and recommendations in both written and oral communication with internal and client leadership;
- Build relationships between Monitor Deloitte and the client's project team;
- Provide professional development opportunities and feedback for junior team members.
Your profile :
Successful candidates will have an excellent Masters degree from a reputable university, have several years of relevant business experience, and the ability to meet each of the following criteria:

- Excellent academic credentials for both undergraduate and graduate coursework;
- A minimum of 2-5 years of previous work experience with a top consultancy practice or leading banking/insurance company;
- Proven track record in dealing with growth and performance improvement issues/strategies such as market expansion, customer insights, profitability management, etc.;
- Outstanding interpersonal and communication skills, both written and verbal;
- Leadership qualities, project management skills, people management and development skills with a strong focus on team development;
- Intellectually powerful and agile: curious, rigorous, and creative;
- Emotionally intelligent: high ability to build strong relationships that inspire openness and trust; to collaborate in teamwork settings with colleagues and clients; and to balance inquiry and advocacy in all personal interactions;
- Comfortable with working on difficult issues where there can be no definitive "right" answer; patient in the face of uncertainty, complexity and ambiguity;
- Capable of working on multiple, overlapping tasks in a fast-paced environment;
- Able to take initiative and make things happen with moderate supervision and guidance;
- Fluent in Dutch and/or French, as well as English.
We offer :
- A challenging, innovating environment where personal development and growth are encouraged;
- Opportunities for learning where needed;
- An attractive and competitive salary with fringe benefits.


(Kindly make reference to Banking Boulevard when applying for this position).
(Bedankt om naar Banking Boulevard te verwijzen als u solliciteert).
(Merci de bien vouloir faire référence au site-emploi Banking Boulevard lors de votre sollicitation).